Whispering Happy Ox-picious and Huatt ahh with Yu Sheng. Let us do some simple homework on how to lou sang(mix and stir) the ox-picious yu sheng this year.
What goes into the ingredients of Yu Sheng and its meaning.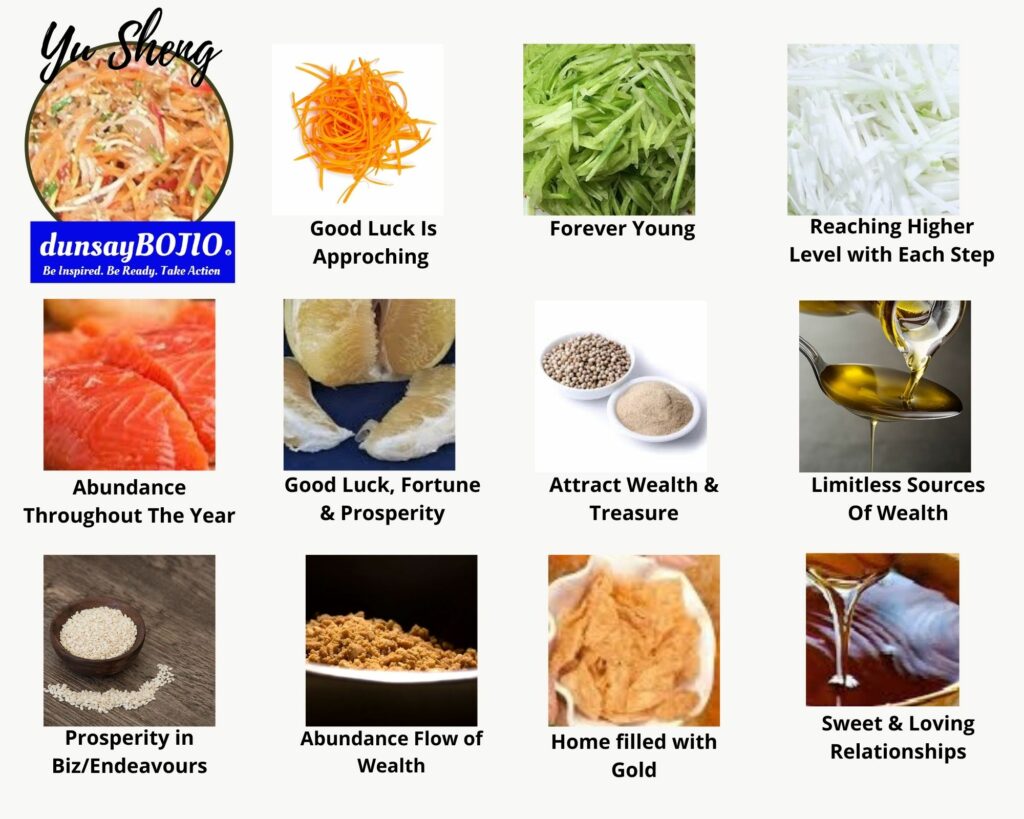 Be a little learned this year and know what are the ingredients added into yu sheng and what do each of the item symbolises.
And with each items added onto the dish, meaningful phrases are being uttered. So, show off a little this year when you know its ingredients and meaning behind each item.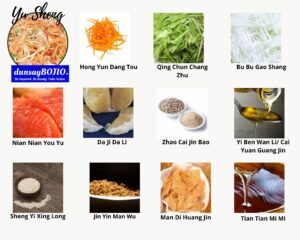 Yu Sheng Ingredients and What Each Symbolises
Thinly sliced Carrots symbolises good luck is approaching ( Hong Yun Dong Tou)
Thinly sliced green radish symbolises forever young (Qing Zhun Chang Zhu)
Thinly sliced white radish symbolises reaching higher level with each step (Bu Bu Gao Shang)
Sliced raw fish symbolises abundance throughout (Nian Nian You Yu)
Pamelo or Lime Juice symbolises good luck, fortune and prosperity (Da Ji Da Li)
Pepper or 5 Spice Powder to attract wealth and treasures (Zhao Cai Jin Bao)
Oil symbolises limitless sources of wealth flow to you in all directions( Cai Yuan Guang Jin) and capitals returns in 10K flows (Yi Ben Wan Li)
Sesame seeds symbolises prosperity in business (Sheng Yu Xing Long)
Peanuts represents inflow of abundance of wealth and prosperity ( Jin Yin Man Wu)
Golden Crackers symbolises home filled with abundance of gold (Man Di Huang Jin)
Plum Sauce/Honey symbolises sweet and loving relationships (Tian Tian Mi Mi)
Tossing the Yu Sheng for continuous abundance, good health and wealth. (Huatt ahh! Ong ahh! Heng ahh! Swee ahh!)