Want to know how to make the blue sticky rice for the mango sticky rice?  Check this out!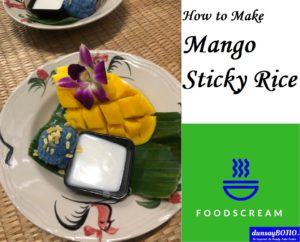 How to make sticky rice for your mango sticky rice
Thai Mango with sticky rice, also known as glutinuous rice,  is a sweet Thai food.  The rice becomes sticky when cooked.  Learn how to cook it right.
Put 3 cups of rice in a large pot. Cover it with 2-3 inches of water above the rice.  Let it soak for 24 hours.
Drin the soaked rice and pour into a steamer basket
Boil 2-3 inches of water in the pot and set the steamer over it.  Make sre the rice doesn't drop into the water
Cover and steam for 20-30 minutes.
Stir the rice evenly.
Steam for another 5 minutes.
Sticky Rice Ingredients
300 gms sticky rice
250ml coconut milk
4-5 tablespoons white sugar
1 teaspoon salt
2-3 pandan leave
How to add the blues in your sticky rice (glutinuous rice)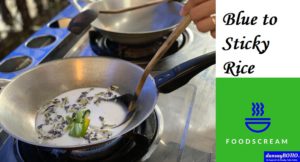 Boil the coconut milk, sugar and salt in the wok or pot.
Add purple tea leaves into the wok or pot.
Add 2-3 pandan leaves tied in a knot
Cook the coconut for about 2-5 minutes till it boils and colour emerge into the coconut milk
Once cooked, add the blue coconut milk into the cooked sticky rice
Stir to make sure the coconut milk is evenly mixed with the sticky rice.
Keep for about 30 minutes before serving.
How to serve the mango sticky rice
You can make balls of mango sticky rice
Cut mango into half and slice diagonally on both sides for designs
Serve with the ball of mango sticky rice
Optional: Add the coconut cream onto the blue sticky rice for taste before serving.
Check out how to cook Thai food for more local favourite food.