Kiam Chye Boay or Nyonya Mustard Greens Stew is a popular dish amongst peranakan and Chinese.  This was then a popular dish that was prepared after big reunion dinner, where leftovers meat like chicken, duck or pork are being thrown into the mustard green stew.  This makes delicious, mouth watering and sourish soup so delectably delicious to savour.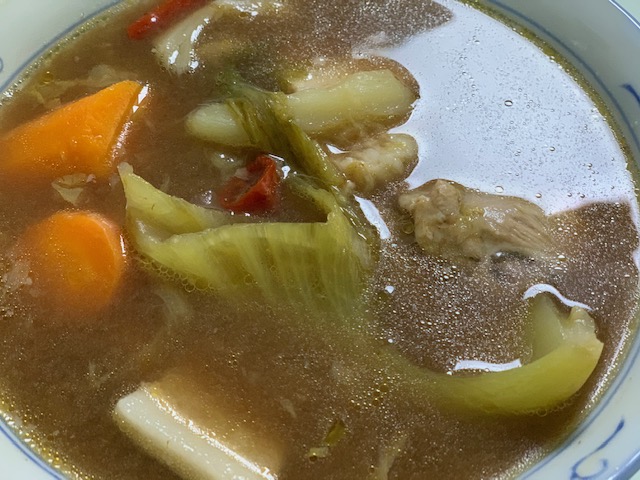 Previously, kiam chye or preserved vege is being used to cook this dish.  Today, we have replaced the preserved vege with a healthy option of mustard greens. 
Mustard Greens
Mustard Greens bring out the flavour in the soup. Mustard greens are packed with nutrients.  This vegetable is packed with calcium, magnesium, folic acid and vitamin K, important for bone health.  It helps boost energy and disease-fighting nutrients. Boil the mustard greens with the tamarind water for about 1 to 1 1/2 hour to bring out the mellow, tasty and sweet peppery taste.
These days, kiam chye boay can be prepared and cooked from fresh meat and mustard greens.  The secret to its sour and spicy taste is the tamarind and dried chillies that are put into the stew to boil.
Lemon Grass
The lemon grass brings out the fresh, lemony citrus aroma in the soup. Lemongrass has antioxidant properties and is known for improving sugar and cholesterol levels in the blood.
Dried Chillies
The dried chillies bring out the spiciness taste in the sourish soup.  The red chillies also add nice colours to the soup. Chillies are known for its antioxidant properties, and is filled with vitamin A & C, iron and potassium.
Carrot
The carrots bring out the fresh look in the soup. Carrots are good source of fiber, vitamin K1, potassium, and antioxidants.  Carrots also lower cholesterol and helps improve eyesight.
Tamarind
Tamarind brings out the sourish taste in the soup.  Tamarind has antioxidant and anti-inflammatory properties.  It helps you protect your body against diseases such as heart disease, cancer and diabetes. The seed extract may also help lower blood sugar, while the pulp extract may help you lose body weight and reverse fatty liver diseases.
The Meat
You can add chicken, duck or pork into this soup, or even all three of them.
Ingredients for Kiam Chye Boay ( Nyonya Mustard Greens Stew)
The Soup Base
About 70 to 100 gm of Tamarind for the Soup Base, make 4-6 big bowls of soup base
Salt to taste
The Vegetables
2 balls of Mustard Greens
10-12 pcs of Dried Chillies
1 Big Carrot or 2 small carrots
2 stalks of Lemon Grass

The Meat
2 Chicken Drumsticks
1 Duck Drumsticks
Few Pieces of 3 layers pork
How to Cook Kiam Chye Boay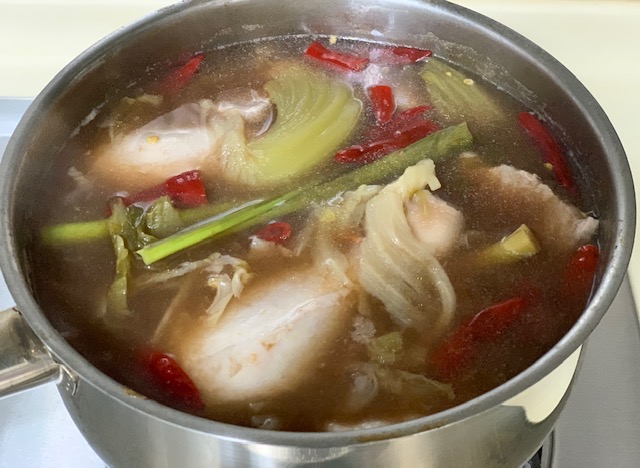 Preparing the Soup Based for Kiam Chye Boay ( Nyonya Mustard Greens Stew)
Make 4-6 big bowls of soup base with the tamarind.
Sieve out the soup base and pour them into your pot.
Start to boil your soup in medium heat.
Preparing Your Vegetables 
Wash and soak all your vegetables.
Peel each layer of mustard greens out and clean and soak them while waiting for your soup to boil.
Cut your dried chillies into 2-3 pcs.  Soak them into a bowl of water, wash and change the water two to three times to take out most of the seeds.
Cut the carrot into small pcs of about 2-3 inches.
Cut and use to stalks of lemon grass.
Cooking Your Kiam Chye Boay ( Nyonya Mustard Greens Stew)
When your soup base is boiled, put in your peeled mustard greens into the soup and let it boil for about an hour or so. 
Add in your cut carrots and lemon grass, let it cook for about 30 minutes.
Put in your cut dried chillies and meat.  Add salt to taste. Let the soup boil for another 30 mins to an hour.  Wo… la, your savoury kiam chye boay or Nyonya Mustard Greens Stew is ready to eat.
You can eat your kiam chye boay on its own or with sambal.  Or simply eat kiam chye boay with rice.