Fruits is our food source for rich, healthy nutrients with fibre. Eating fruits and vegetables daily helps reduce risks of chronic diseases. Fruits provide the vital nutrients and fibre for a healthy and happy body and mind.
How about Fruity Smoothie!
Fruits are sources of many essential nutrients like Vitamin A, B,C, potassium, dietary fiber and folate (folic acid).
Health Benefits of Eating Fruits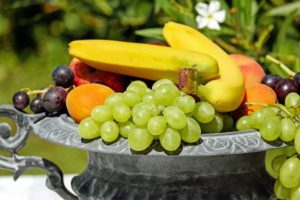 Fruits with potassium, like bananas, prunes, peaches, apricots, cantaloupe, orange and melons may help to maintain healthy blood pressure.
All fruits comes with dietary fiber which can aid to reduce blood cholesterol levels and may lower risks of heart diseases.
Fiber also helps aid indigestions and reduce constipation.
Fruits have lower calories, reducing lower food intake.
Vitamin A in fruits helps to improve immune systems and improve eyesight
Vitamin B in fruits helps to prevent anemia, reduce stress and upkeep healthy DNA and blood cells
Vitamin C is important for growth and repair of all body tissues, helps heal cuts and wounds, and keeps teeth and gums healthy.
Folate (folic acid) helps the body form red blood cells.
More Health Benefits of Fruits
Eating diet with vegetables and fruits daily helps to reduce many health issues related to cardiovascular, immune systems, digestions issues
Eating a diet rich in some vegetables and fruits can help reduce heart diseases, obesity, type 2 diabetes
It helps lower blood pressure and cholesterol level, reducing risks of kidney and mass bone loss issues
Eating fruits daily is good for our overall health
The Benefits Of Apple

The Benefits Of Orange

The Benefits of Banana

The Benefits of Berries

The Benefits of Lemon

Fruit Smoothies
To add some spice and exciting mix to your daily fruit diet, you can make delicious smoothies too.
Make fruit smoothie to add rich nutrients diet to your daily beverage. It is easy to make and delicious to drink.
Fruits diet for 21 days to lose the extra weight. Consume in moderation, while maintaining healthy lifestyle that includes enough rest and sleep for the body, sufficient physical exercises and some me time with meditation or self hypnosis for overall body, mind and soul upkeep.
Are you confident on eating healthy with the right amount of daily nutrition? If you are not fond of consuming vegetables or fruits daily, take time to change your perception on healthy eating through hypnosis.