Bangkok buffet with Bangkok city view has two options one on the 83rd floor and another on 78th floor. The one on 83rd floor has better spread of food and ambience, while the one at 78th floor has mediocre range of buffet food. But, it is worth going for the Bangkok city view.
Bangkok city view can be seen on the 84th floor, where it comes with revolving viewing area. It is breezy and nice. And you can really have a good birdeye view of the whole of Bangkok as Baiyoke Hotel is situated in the center of Bangkok.
Baiyoke Hotel with International Buffet
Baiyoke Hotel offers Bangkok Buffet with Bangkok City view at reasonable price.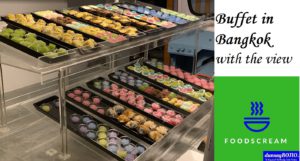 Bangkok City View
Check out this night view of Bangkok at 360% view.
If you like to spend a little more for a better spread of selection with great seafood selections, check out The Best Seafood Buffet In Bangkok.