Pineapple tarts is one of the popular cookies for these festive season. Pineapple also means luck or fortune is a good spread for the new year.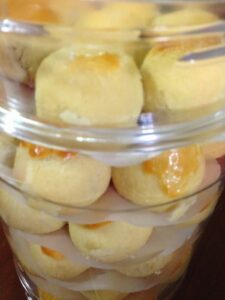 Let's bake delicious, tasty melt in your mouth pineapple tarts from the original ingredients.
Preparing the pineapple paste. It is so easy and delicious.
Pineapple Paste
Pineapple paste ingredients, to be cooked in wok under small fire, till dry and brownish in colour
Start to stir when the pineapple juice is drying up to prevent burnt smell
3pcs of 2-3 cm cut fresh pineapple, to be blended
2 cinammon sticks
2 anistar
2-3 small rock sugar
1 teaspoon of gula melaka ( can add 1-2 small rock sugar if you do not have this, this brings out the fragrant gula melaka taste in your pineapple paste).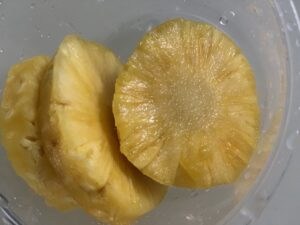 PINEAPPLE BALL TARTS
Mix dough till its good and do not stick to hand or pan
This amount makes about 12-15 pieces of small balls. Roll one small piece and flatten the ball to put in pineapple paste and close the dough to make a nice round ball.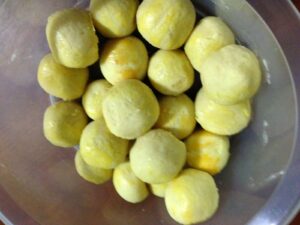 80 gm butter, to be melted
1 teaspoon vanilla extract
1 egg yolk
150 gm plain flour
1 tablespoon corn flour
1 tablespoon sugar
salt to taste
1/2 egg yolk for egg wash after ten minutes bake
Place all pineapple ball tarts onto oiled baking tray. Put to bake into pre-heated oven at 180 degree for 10 minutes. Brush egg yolk onto each ball.
Bake at 180 degree for another 15-18 minutes or till golden brown.
Ready to eat and serve. Goes nicely with coffee or tea.
Good bakes to serve for this coming Ox-picious year. Gong Xi Fa Cai!
Check out delicious and tasty home baked cookies.
Some cakes baking for the festive season? Whip up these cakes with the simple yet delicious foodscream recipes.
And some popular Foodscream Chocolate Cookies bake for you!
Craving for nyonya kuehs, how about making them from the comfort of your home? Nyonya delights simple recipe for you to make at home.